Window & Door Replacement Company in Buffalo Grove, Wheeling, Vernon Hills, Glencoe, Mundelein
Gain energy efficiency and give your home a fresh new look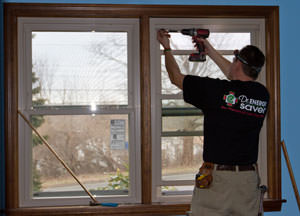 Replacement windows fit inside existing frames. A replacement window comes fully assembled, ready-to-install -- the windows slip right into the existing openings after the sash units have been removed.
Are your windows and doors beginning to warp? Or are your windows are doors feeling drafty? Dr. Energy Saver (N.E. Illinois) is the company to call. We are Illinois neighborhood energy saving contractors, offering our professional services on window and exterior door replacements.
Windows and doors are essentially large holes in your home's building structure; consequently, if you have old and worn windows and doors your energy system's may be vulnerable. Our company offers high performance windows and doors for maximum home energy efficiency.
Why choose our company for window and door replacements:
Maintenance free products
Energy star ratings
Fully warrantied work
Improved home appearance
Free Estimates and fast service!
Turn your old, dysfunctional, ugly windows and doors into beautiful energy saving. We offer our warrantied services to homeowners throughout the Cook & Lake County, IL.
Having inefficient windows and doors in a household can easily make your living quarters uncomfortable and displeasing. Stop living uncomfortably in Illinois, contact us to maximize your home's energy efficiency and improve your home comfort!
Our service area includes Lake Forest, Wilmette, Winnetka, Kennilworth, Highland Park, Lake Bluff, Deerfield, Highwood, Fort Sheridan, Barrington and areas nearby.
Professional Replacement Window & Door Company in Illinois
If you feel your windows or doors are warped, ugly, or too drafty, contact Dr. Energy Saver (N.E. Illinois). Our trained energy contractors offer replacement windows throughout the Cook & Lake County, IL to improve your home's quality, comfort, and value. We offer Free Estimates on replacement window and door installations.
We Repair, Replace, and Install your Replacement Windows & Doors
Our company provides free, hand-written estimates to Illinois homeowners looking to replace their old, inefficient windows and doors with new high-efficient models. Our energy saving specialists have the equipment and the experience to work on any window or door throughout the home.
Contact Us For A FREE Windows & Doors Estimate
Replacement Windows Improve Appearance and Reduce Energy Losses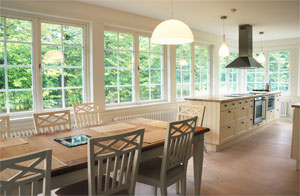 Installing new replacement windows can be a moderately tough job to do by yourself. Careful measurements must be adhered to when installing new replacement windows, because the units are designed to fit snugly inside the existing frames. Our trained energy contractors will not only carefully measure the size of your current windows, they will air-seal and insulate your frames and place an order for the specific replacement windows each frame needs.
Some features of new replacement windows include all vinyl construction; which, are great for long-term durability and resistance against natural elements. These replacement windows also improve energy efficiency, never require painting, and are easily functional - making cleaning easier.
---
Replacement Doors Reduce Drafts and Improve Energy Efficiency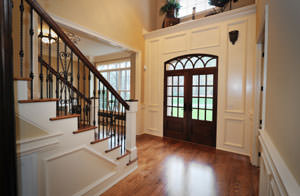 Replacement doors are sturdy and energy efficient. Replacement exterior doors offer your home a durable entrance-way that also provides curb appeal and energy efficiency.
Our replacement exterior doors come fully equipped in either vinyl, clad-steel, or fiberglass and are filled with foam insulation for maximum energy efficiency. Our entry-doors are some of the more luxurious and top-quality door models in today's marketplace offering enhanced energy efficiency and excellent dimensional stability (resistance to cracking and warping).
Pre-hung doors have become the most coveted door models in the home improvement industry. The term "pre-hung" means that the door comes already installed in its opening, so the jambs and hinges are already in place. With a quality pre-hung door, there's no doubt about getting a solid, snug fit in the door jamb - plus weather-stripping is already installed. Some pre-hung doors are actually part of an "entry door system" that can include fixed side lite windows and transom windows over the door.
Get our Replacement Door and Window Price Estimate Today!
Call us by phone, 1-888-610-0413 or contact us online to schedule a free windows and doors estimate in your home today. Ask us about our whole house energy audit, which can accurately identify and assess how your home uses and loses energy.
Looking for a price? Get a no cost, no obligation free estimate.