Indoor Air Quality Solutions For Homeowners Near Winnetka, Wilmette, Lake Forest
Health problems associated with indoor air pollution
Headaches
Dizziness
Coughing
Allergies
Fever
Muscle aches
Fatigue
Sinus infections
Respiratory ailments
We make homes healthier with proven solutions to indoor air quality problems
Is your house making you sick? Are you worried about the harmful effects of indoor air pollution? Do family members have ailments associated with "sick building syndrome" (SBS) or "building-related illness" (BRI)?
Indoor air pollution is a hazard that can easily go unnoticed until family members develop symptoms like frequent colds, severe allergies and/or respiratory ailments.
Although medical doctors can treat the symptoms caused by SBS (see sidebar) or indoor air pollution; without addressing the indoor air quality (IAQ) issues in the home, health symptoms are likely to come back - or never actually go away.
Homeowners sometimes take matters into their own hands, buying expensive air cleaners in an attempt to improve indoor air quality. Despite these efforts and expenses, SBS persists. What can be done? How can an unhealthy house be made healthy again?
We can diagnose and treat sick building syndrome
If you're worried about indoor air quality and the overall healthfulness of your home, Dr. Energy Saver N.E. Illinois can help. In the same way that a medical doctor is trained to diagnose and treat illnesses of the human body, Dr. Energy Saver N.E. Illinois's technicians are trained and certified to detect and correct building defects that cause indoor air quality problems.
Improve the air quality and efficiency of your home all at once!
Contact Us Today!
We offer a variety of solutions that can improve the air quality of your home, including ductwork solutions, HVAC replacement, and more. Contact us today to schedule a home energy audit or estimate!
Sources of indoor air pollution
The term "Sick Building Syndrome" was first used by the World Health Organization in 1986, when studies linked certain health problems to a variety of indoor air pollutants that became more concentrated as buildings became "tighter" in an effort to improve energy efficiency. Volatile organic compounds (VOCs) like formaldehyde were initially identified as major indoor air pollutants.
As manufacturers gradually removed VOCs from different products (upholstery, carpeting, adhesives, cleaners, furniture, etc.), other pollutants have been identified. These include mold spores, pollen, bacteria, particulates (dust), combustion byproducts (carbon monoxide and CO2) and radon. Today indoor air pollution is recognized as a major health problem by the EPA, the Center for Disease Control and many other health, safety, and environmental organizations.
Common indoor air pollutants
Mold
Dust and dust mites
Pet Dander
Smoke
Cleaning supplies
Carbon monoxide
Plumbing leaks
Asbestos
Gases emitted from furnishings, carpets, building materials, etc.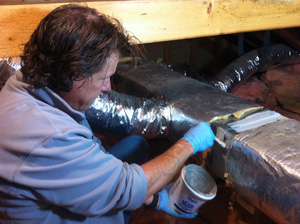 Air control. Sealing leaky ductwork is one way to eliminate an indoor air pollution source that can contribute to sick building syndrome.
We can detect and correct sick building syndrome and IAQ issues
Some IAQ problems are caused by inadequate ventilation. Others are attributable to leaks in the ductwork system. Still, others can be traced back to excessive moisture in a basement or crawl space that triggers a mold outbreak.
Medical doctors can easily misdiagnose sick building syndrome because many of the symptoms resemble flu-like illnesses and ailments. To accurately diagnose indoor air quality issues and resolve them with proven solutions, call Dr. Energy Saver N.E. Illinois. Guided by building science principles, our forensic building analysis will identify your home's IAQ issues, propose the most effective solutions, and complete the remedies you select.
Contact us for an installation quote!
Learn more about specific IAQ and sick building syndrome issues by reading our frequently asked questions.
Schedule an indoor air quality inspection in Lake Forest & nearby
Contact Dr. Energy Saver N.E. Illinois to set up an appointment with one of our technicians. They will inspect your home and provide prioritized suggestions for reducing indoor air pollutants. You don't have to deal with a "sick" home any longer! Give us a call at 1-855-568-0838 or contact us online.
Dr. Energy Saver N.E. Illinois proudly serves Wilmette, Lake Forest, Winnetka, Highland Park, Kenilworth, Deerfield, Lake Bluff, Arlington Heights, Barrington, Highwood and nearby areas of Illinois.